*This article may contain affiliate links. We receive a small commission at no extra cost to you. If you enjoy our content and want to support Travel For Wildlife, please visit our shop Truly Wild.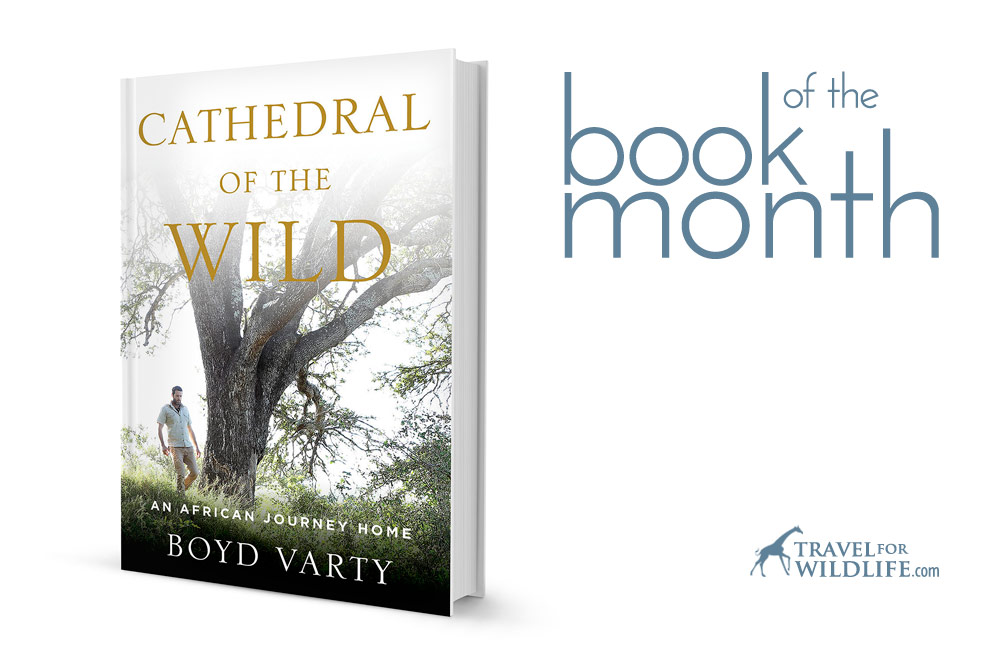 Imagine growing up in one of the most famous game reserves in the world, surrounded by leopards and crocodiles. This is what Boyd Varty's childhood was like. Aside from a few years in classrooms here and there, he was home-schooled in Londolozi Game Reserve and various parts of Africa while traveling. His family has owned Londolozi for over 80 years and their game reserve is one of the pioneers of eco-tourism in South Africa.
To me Londolozi means one thing: LEOPARDS. I haven't visited Londolozi yet but over the years it has become famous for its more-than-healthy population of leopards.
In Cathedral of the Wild: An African Journey Home
, the author recounts how his family bought a derelict farm that they transformed over the years into a glorious game park. He reminisces about growing up in the bush with his sister and learning about life and wildlife from his dad and uncle.
[box style="quote"]What I learned from my father and uncle is that you don't always have a clear road to your goal; in fact, you hardly ever do. But that's no reason not to start. Have the confidence that you'll hack it out along the way."[/box]
Soon you realize that this book is not just about wildlife adventures in the game reserve (although there are plenty). It is more than that; something personal and deep. As the author faces episodes of violence and sudden loss, he also learns how to heal. He visits India while searching for answers but ends up finding them in a sweat lodge in Arizona.
[box style="quote"]We must always build space around real grief. We need to allow the pain to carve within us a deep knowing of what it means to live. To shape us as innocence never can."[/box]
While reading Cathedral of the Wild I felt compelled to write down some notes. Boyd's thoughts on life, nature, and wildlife made me stop reading and think for a while. That is when I knew I had a good book between my hands.

But it's not all deep thoughts either… there are plenty of laughs along the way.
[box style="quote"]It's been said that buffaloes look at you like you owe them money."[/box]
A few days ago, Boyd was kind enough to answer a couple of questions for me:
1) When I read your quote "A misadventure often proves to be the best part of a safari…True of life too." I definitely identified with it. I have great memories from times when things didn't go as planned and disaster was near. Could you tell us of a misadventure you've had while on a safari?
Every safari is an adventure embedded with the opportunity for misadventure. I immediately think of a time i was with some guests following  lions across a clearing. It was after heavy rains and before we knew it we had sunk into the soft earth up to our axles. It was at precisely this moment that the lions decided to lie down all around the landrover. There was nothing to do except wait it out till the lions moved off…. and so the guests had a doze while the lions had a sleep. It ended up being a nice moment of harmony. Not many people can say they have had a nap with a pride of lions.
2) You have traveled the world for many years and you are happiest when in nature surrounded by wild creatures. How do you find your inner wild peace when traveling to places like New York? Do you have any advice for people that have little time to get out of the concrete jungle?
Even when we can't access natural places, we can always return to our own inner nature. The human being is a biological entity and to go within through a medium like meditation is always a means to return to our true nature. The essence of who we are is as natural a place as the wilds of Africa.
"The essence of who we are is as natural a place as the wilds of Africa." Did that make you stop and think? Then you'll enjoy Cathedral of the Wild as much as I did.
Cathedral of the Wild is available in hardcover and in Kindle format.