Swimming with manatees is like no other wildlife encounter. You slip into the crystal clear blue water and see that you are surrounded by slumbering giants. One slowly rises from the sandy bottom and notices you floating quietly on the surface. With a gentle undulation of her massive paddle-shaped tail she surfaces to breathe. Then she goes down again to carry on with her nap.
Watching wild manatees is quite unlike any other wildlife encounter in the world, and you can only experience it in Crystal River, Florida.
To take part in this underwater experience, the best thing to do is to book a private or semi-private tour (more on this below!). If you'd rather do it yourself, you can rent a pontoon boat from one of the many diving shops in the Kings Bay Area. If you are not up for getting in the water, you can either kayak, or watch the manatees from your pontoon or on foot at the Three Sisters Boardwalk. The boardwalk is the best place to see manatees in Florida without getting wet!
*This article may contain affiliate links. We receive a small commission at no extra cost to you.*
Swimming With Manatees is an Experience of a Lifetime
Swimming with manatees in Crystal River Florida is unlike any other wildlife-watching experience in the world. Definitely a bucket list item. Here, you can truly interact with wild animals on their terms and in their natural habitat. Even though they are gentle giants, remember they are wild and deserve our respect.
Though there are many wildlife attractions around the world where you can come into close contact with a wild animal, it is usually because they are being bribed with food or coerced against the animal's will. This is not the case in Crystal River. The manatees congregate here every winter to take advantage of the 72 degree water that flows from the springs throughout Kings Bay. And though they have plenty of protected areas where they can rest undisturbed, they choose to come out and interact with the humans out of simple curiosity.
Why Crystal River, Florida?
Crystal River is the manatee capital of the world. Manatees congregate in these waters during the cold winter months. The reason for it is that the natural springs that feed Kings Bay are always at the same warm temperature of 72F. Manatees travel to the springs in the winter to avoid the cold waters of the open ocean.
Manatees are endangered marine mammals and are protected by federal and state laws. As such, it is illegal to approach or touch a wild manatee. However, in Citrus County, Florida where Kings Bay resides, they have made an exception which has taken manatee tourism to another level. Here it is legal to physically interact with Florida manatees in a very controlled manner, specifically with a single open hand.
However, after having spent a good deal of time in the water with manatees, we've begun to see that lots of humans reaching out to touch manatees can get very disruptive to the animals. Worse still, it can actually train animals to become accustomed to humans, altering their natural fear of people and boats and causing more manatee deaths.
Our suggestion, as with all wildlife, is to do passive observation. Look but don't touch. Observe from a distance. We recommend keeping your hands to yourself and letting the manatees come into contact with you on their own terms. Perhaps a manatee will decide to nibble on your feet or hug your arm with its flippers or simply give you a "kiss".
The city of Crystal River is discussing the possibility of revoking the "touching allowed" exception and we fully support this decision. Swimming with manatees in Crystal River is an even greater experience when you know you are not harassing or endangering the very wildlife that you've come to see.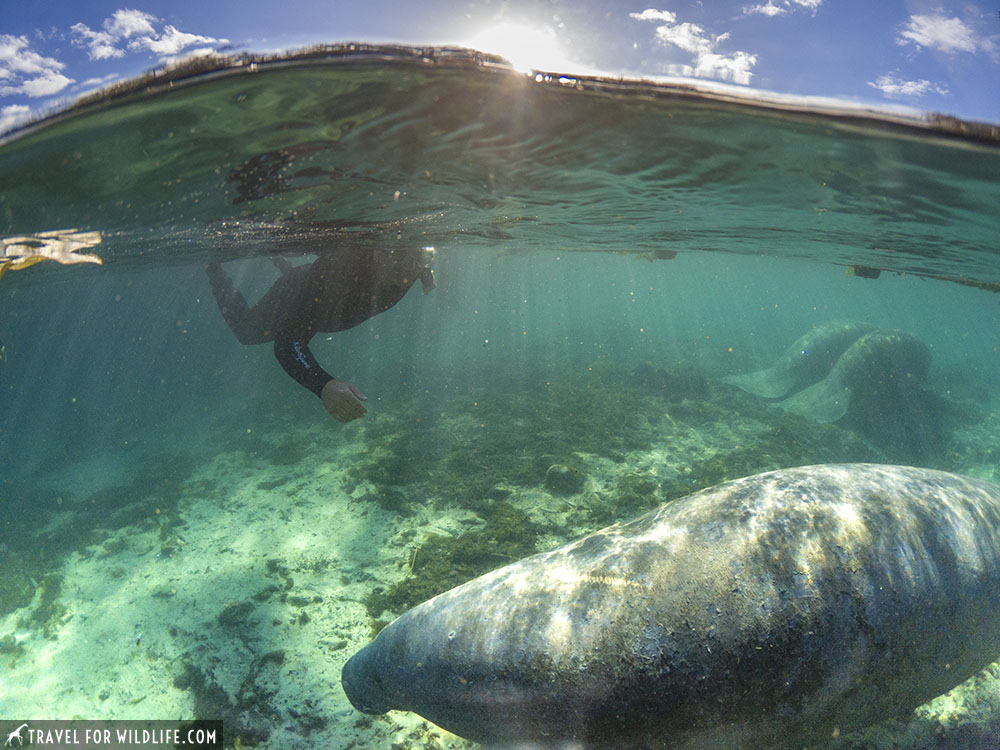 You can also swim with manatees at Homosassa Springs, just down the road from Crystal River. Homosassa Springs is also in Citrus county, that's why it is possible to snorkel with manatees here too. Citrus country is the only place in Florida where you are allowed to swim with manatees.
Book Your Manatee Tour
Booking a manatee tour from one of the very experienced tour operators in the area is the best way if you don't want to bother on renting a pontoon. These tours give you a peace of mind as all snorkeling gear (wet suits, snorkel, and fins) is included (together with your tour guide of course!). You just need to bring dry clothes, your bathing suit, and a towel. And if you choose the right tour you'll get a hot chocolate once you are done swimming to warm up!
Early morning tours are normally the best to join, specially during the winter season. It is when the largest concentration of manatees occur as it is colder then.
You can either book a private manatee tours or a semi-private tours for your manatee close encounter experience. Take a look at these three tours:
Crystal River Small Group Luxury Manatee tour: A 3-hour cruise on a luxury pontoon boat. It includes the services of a Coast Guard certified captain and in-water educator and photographer (having water guides is a big plus). You'll learn about manatees and about passive interaction and how to make this experience enjoyable for you and for the manatees! Refreshments, hot chocolate, and cocktails available at the pontoon boat. Book this tour here.
Crystal River Manatee tour: A 3-hour cruise on a covered pontoon boat. It includes the services of a Coat Guard certified captain. You'll learn about manatees and their greatest threats before you head out to the Bay. Water is available on board. Book this tour here.
Homosassa Springs Manatee tour: Perfect trip if you are based in Orlando as this includes transportation from the city. It also includes a 3–minute airboat ride on the Withlacoochee River, packed breakfast and lunch. It does not include the wet suit rental ($15 to be paid on site). Book this tour here.
"There it is. With wide eyes, you begin to breathe rapidly through your snorkel and your adrenaline rises. She is coming straight for you. She raises her head and spreads her massive, whiskered muzzle. Your instinct is to retreat and you back-pedal nervously, then remind yourself that this animal is a vegetarian. The manatee floats to within a foot of your mask, briefly turns her head to peer at you with a tiny dark eye and then gently kisses you square on the face. It is one of the most amazing experiences you will ever have in your life."
Best Place to Swim With Manatees in Crystal River
If you are doing it by yourself, this is where you need to go. There are several prime locations for swimming and snorkeling with manatees throughout Crystal River and Homosassa Springs but our personal favorite (and what is considered the best place to swim with manatees) is the Three Sisters Springs in Crystal River. Another great hotspot nearby is the King Spring next to Banana Island.
If you are in a kayak, you can launch it at the local park, Hunter Spring Park.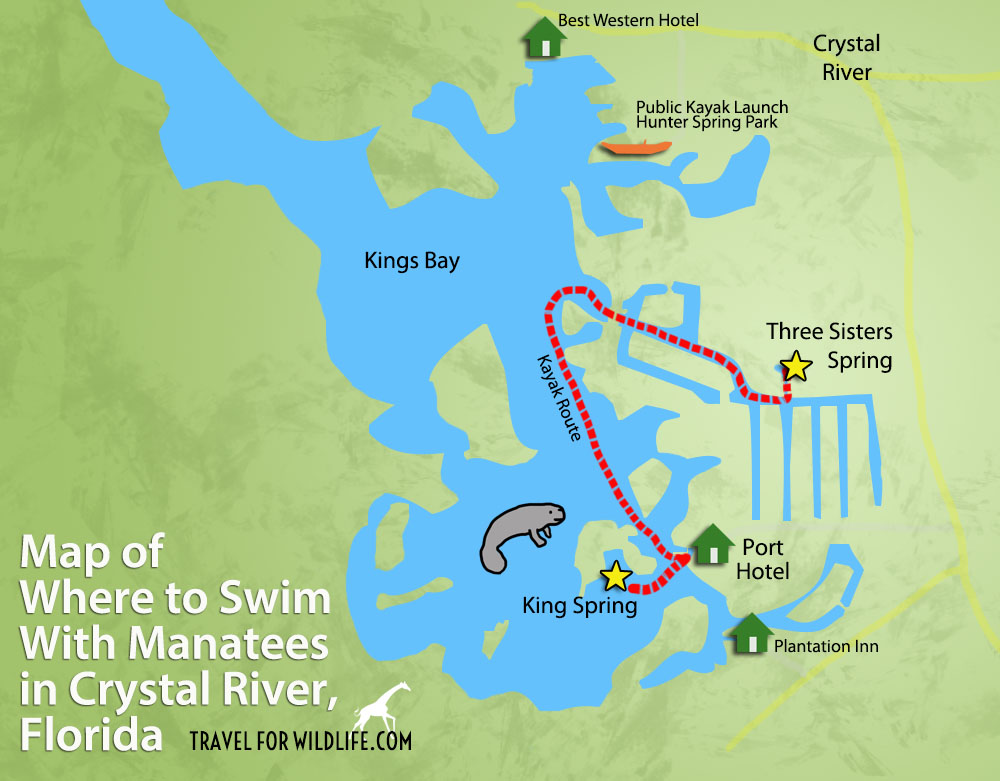 When is Manatee Season? When to Swim with Manatees?
The West Indian manatee arrive in winter to take advantage of the relatively warm water that gushes out of the springs in the bay. Peak manatee season is winter being December, January, and February the best months to visit the manatees as they are present in the greatest numbers. (Though we have visited in the summer and have still seen manatees in the bay.) We generally visit in early January.
Keep an eye on the weather in Florida. If you see there has been an especially cold snap in the Gulf of Mexico then you can be sure that the manatees are taking refuge in the springs (updated: please read below our stand on visiting in very cold days). As the ocean water temperatures rise again in the spring, the manatees will disperse back into the coastal waters throughout the gulf and east coast of the United States.
If you visit during the summer months, you might see a couple of manatees, but nothing compared to peak season.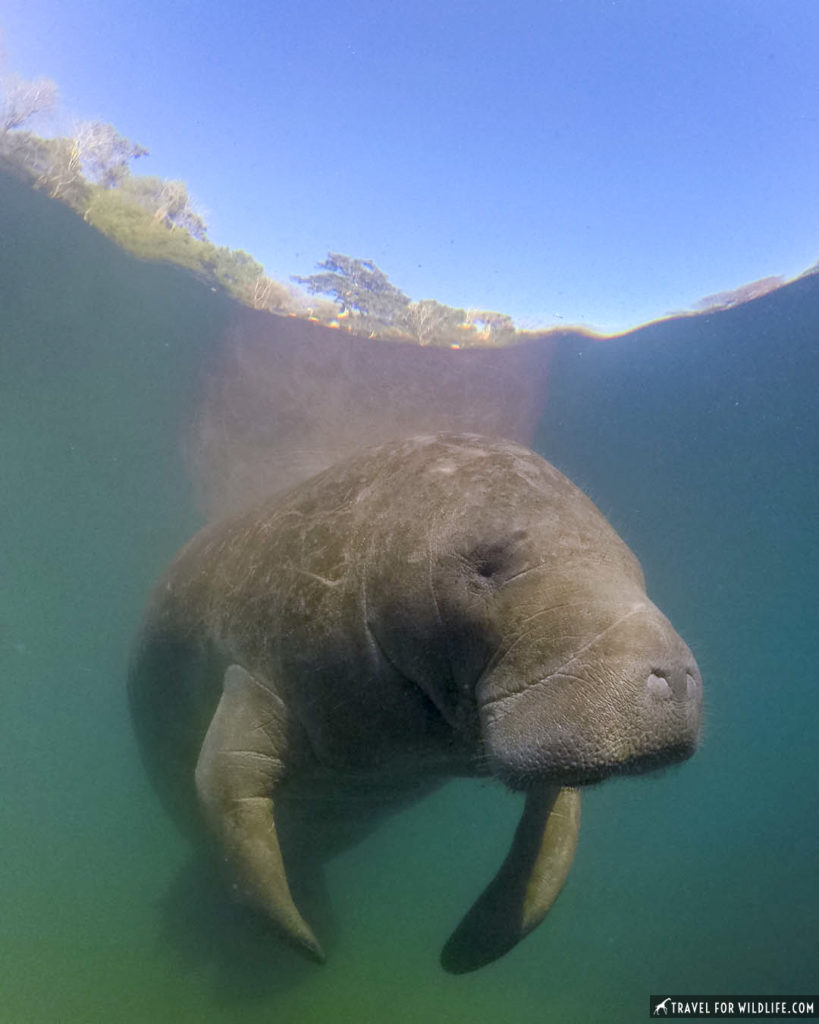 Having Said That… Is it Responsible to Swim with Manatees?
We used to visit Crystal River to swim with manatees every year. We even got married on a boat here surrounded by manatees (it was awesome!). But over the years our concern has grown for the wellbeing of these endangered animals and we decided not to visit them for a while. We hadn't visited in about 5 years until we went back in January 2019 to check how things were going.
The thing is that more and more people are visiting, wanting to interact and touch them, and to get that Instagram photo. And lots of people are not following the rules.
While we believe you can go swimming with manatees and be responsible at the same time, you have to remember that these guys are in the Crystal River National Wildlife Refuge springs in winter to seek the warmth of its waters. They can die from hypothermia in the winter if they can't reach the springs. Think about it, if there's too many people around the springs, we are blocking them from getting to safety.
So my advise right now is not to visit during very cold days so there is less people in the water, giving manatees the space they need. Also, avoid very busy days, like weekends and holidays like Christmas or New Year's Day.
If you want to see the manatees and respect them at the same time, take a kayak and stay in the kayak, or view the manatees from a bridge, or form the Three Sisters Spring boardwalk. If you decide to get in the water, give them lots of room.
Where to Stay in Crystal River
There are many lodging options in Crystal River. Our favorites are the places by the water as you can watch manatees and dolphins from our hotel, the sunset views are fantastic, and they provide you easy access to the water if you bring your own kayak.
The Plantation on Crystal River (click here for prices and availability) at the south end of the bay is a lovely option. Their restaurant is great, we recommend eating here even if you don't stay at The Plantation. At The Plantation Adventure Center you can book private or semi-private tours.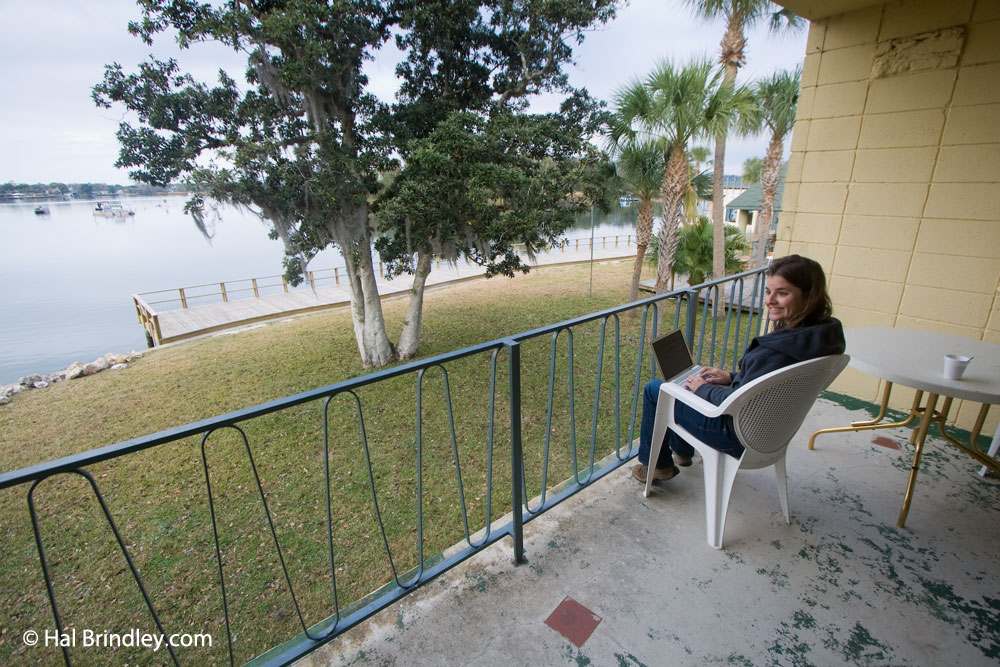 For slightly less bank you can choose the Best Western Crystal River Resort ( click here for prices and availability) to the north.
And if you're cheap like us, try our personal favorite: Port Hotel and Marina (click here for prices and availability), right in the center overlooking King Spring. Though the hotel is in poor condition, the location is superb. Watch our video: 60 Second Review of the Port Hotel or read our review of the Port Hotel in the lodging reviews page. Each of the above hotels offer guided manatee tours, rental boats and kayaks, and rental snorkel gear.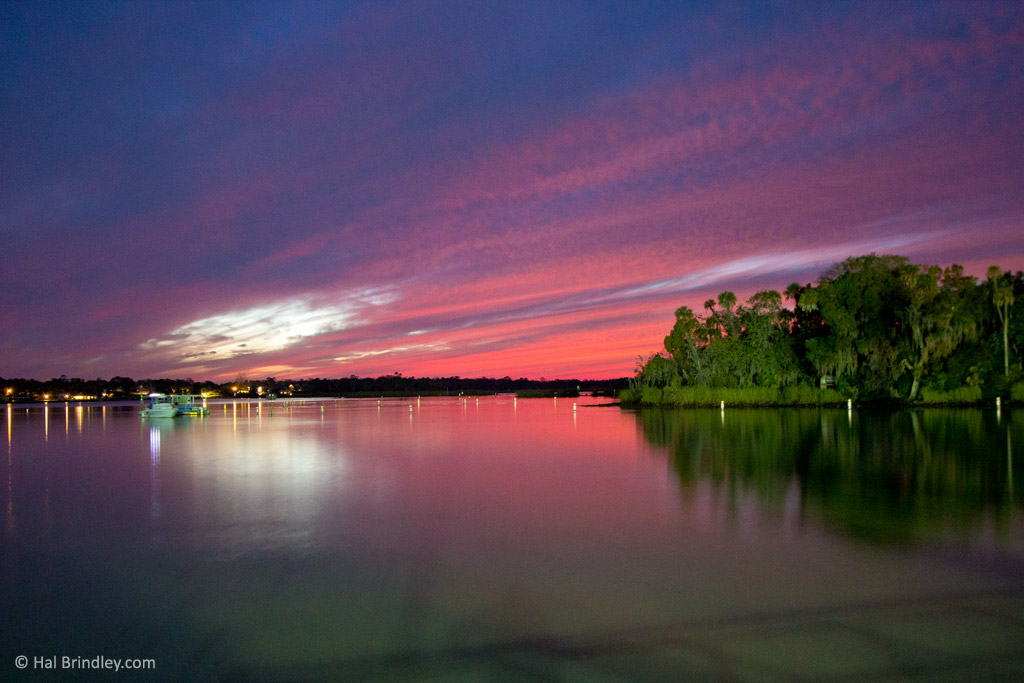 If you are visiting for a few days we recommend you take a day out and visit Cedar Key. This beautiful Key is about one hour north of Crystal River and driving in is like stepping into quaint Old Florida. If you bring your kayaks, you can paddle out to Cedar Key National Wildlife Refuge, which is a small island, with a pristine beach and a beautiful old cemetery where live oaks and Spanish moss gives a magical air to this corner of Florida. When we kayaked in we saw a few dolphins, and since that outing we've called Cedar Key, the best place kayak with dolphins in Florida.
Ways to go Swimming With Manatees in Crystal River
There are two main ways to go swimming with manatees in Crystal River. The first is to take a guided manatee encounter The second is to go out with your own boat or kayak. There are many guided manatee tours (snorkeling) available and they are a great place to start. They generally cost about the same amount, go to the same places and stay for about the same amount of time so don't worry too much about choosing one. But once you've had your first guided manatee tour, you're going to want to go out on your own and that's what we're going to talk about here.
1) Know the Rules. First and foremost, if you're going to do a self-guided manatee swim then you have to know the rules of interacting with manatees. If you've rented snorkel gear or a kayak from a local dive shop, they will have you watch an orientation video. Even if you're not renting, it's a good idea to watch one of these. The official Fish & Wildlife video: Manatee Manners is available on Youtube. Also, check out the Florida Fish & Wildlife website for a full list of rules. Remember, this is a great privilege to be able to interact with a wild endangered species. See the end of this post for more tips on manatee manners.
If we humans can act responsibly with these amazing creatures then this unique experience will continue to be possible in Crystal River.
2) Get Snorkeling Gear. Snorkeling is the way to go when swimming with manatees. You'll need a mask, snorkel and fins. A wetsuit is recommended because the 72 degree water will get chilly rather quickly. The other benefit of wearing a wetsuit is that it will make you more buoyant, allowing you to float peacefully on the surface without a bunch of disruptive kicking and flailing. SCUBA gear is not recommended. The bubbles are disruptive to manatees and it is illegal to dive below the surface in manatee areas anyway.
If you don't have your own snorkeling gear, you can rent it from one of the many dive shops in town (if you have booked a tour, this is normally included in the tour price). Some people who are new to snorkeling rest on a "swim noodle" float to keep themselves buoyant. Also, be sure to bring a dive flag if you are snorkeling from a boat or kayak. It's the law!

3) Get a Boat. You'll need some kind of boat (pontoon or kayak) to access both King Spring and Three Sisters Spring. There is no land access available.
If you are staying at the Port Hotel, it is possible to swim directly to King Spring. If you stay in the "A" building you can pop right out your back door and climb down the corner of the break wall at the edge of the property. If you do swim out, make sure to take a floating dive flag; it will keep you from getting hit by a boat and it is the law.
Each of the waterfront hotels offer rental boats and kayaks. You can find boat rentals at different hotels around the King's Bay where you can rent a pontoon boat to visit the natural springs where the manatees congregate.. We recommend you take a kayak because each year hundreds of manatees are injured or killed by boat propellers. Please slow down and enjoy the boat ride!
If you have your own kayak, bring it. If you're staying at a hotel you can launch from their marina. If not, you can launch from Hunter Spring Park at 104 Northwest 1st Avenue. If you don't have a kayak, you can rent it from the Port Hotel and launch from their marina.
4) Get to the Manatees. Our favorite location is Three Sisters Spring. It is a truly magical spot if you catch it at the right time. Kayaks are now NOT allowed inside the springs from November to March, but you can tie them outside the springs, there is a designated space for non-motorized vehicles tie up. If arriving by motorized boat, you must drop anchor in the channel outside the spring. If it's too crowded at Three Sisters Springs, then King Spring is a good backup. You can tie your kayak to the public information raft next to King Spring. The visibility tends to be worse, but there is more room to anchor because it is out in the open bay. Plus there are always lots of big fish to check out at King Spring.
Note that on very cold days when the water temperature drops, the springs are closed to swimmers. This is to ensure the manatees have lots of room to shelter in the warm spring waters.
5) Timing. If photography is your goal, then aim for arriving at Three Sisters Spring at high tide. Visibility is best inside the spring and manatees can only enter the narrow channel when the tide is up. Check the tide schedule at a local dive shop or search it online. If you arrive when the tide is low you can still see lots of manatees out in the channel, gathered around the mouth of the spring. It can get very crowded in the mornings; some tour boats arrive as early as 7AM.
Everyone tries to get there first for maximum water clarity. Once people begin arriving, the bottom sediments start to get stirred up. The good news is that inside the spring there is so much water flowing out that it tends to clear up quickly when people leave. If you don't manage to be first on the scene, we find that the next good lull in visitors is right at lunch time, around noon. The place can be packed all morning and then suddenly everyone leaves and all is peaceful. You'll see a second rush in early afternoon and then by 3PM the place is deserted again.
Manatee Underwater Photography Tips
For video a GoPro HERO11 is a fantastic option.The key to great underwater video is to HOLD STILL. Try to keep your body and hands as steady as you can when filming. You'd be surprised how a little bit of movement can ruin your clips. For still photography we were using a Sea & Sea DX-1G digital camera with an underwater housing. It is essentially a point and shoot camera but it has the ability to shoot in raw which is great for correcting the difficult colors and exposures inherent in underwater photography. This year we have just brought our GoPro since we bought a camera dome port. We have the simple dome port, but I would invest in the dome port with stabilizer for a smoother video. The split shot below was taken with the GoPro and our dome.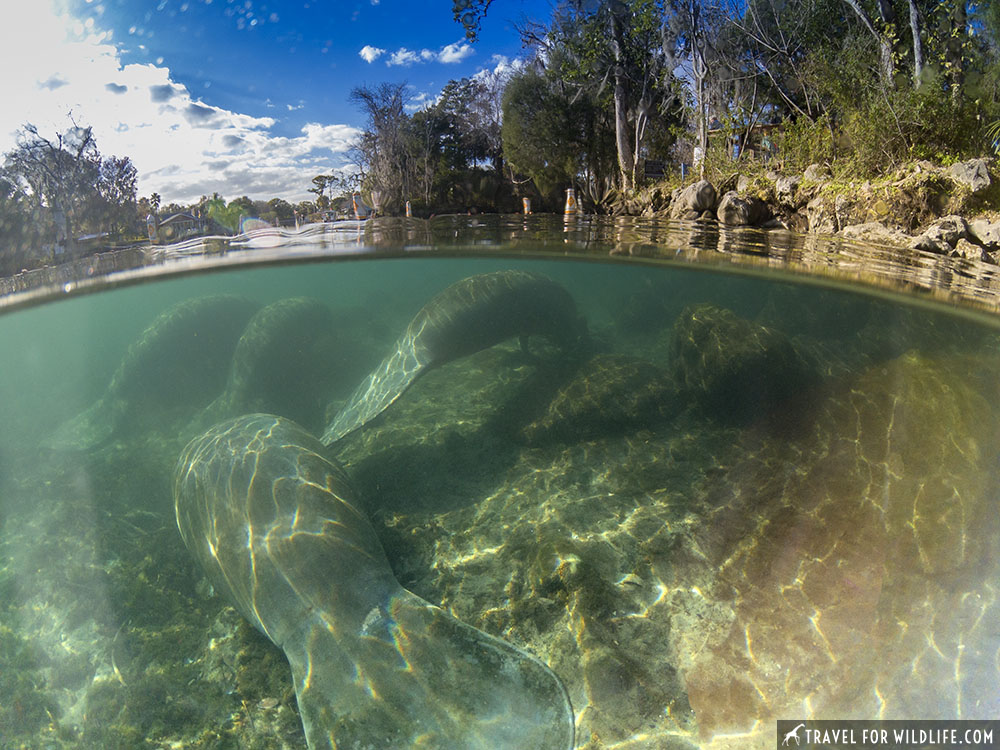 I find that my best underwater photos of manatees generally include their entire body and are shot from the front so the face is visible. Manatees get very close so wide-angle lenses are a must. Look for manatees in open sunlight for beautiful light ripples on their backs and of course, try to shoot the ones in the clearest possible water. I've tried many varieties of underwater cameras and here is a quick summary of my experience.
Disposable underwater film camera

: Can get a couple cool shots if you're lucky but don't expect great quality. Cheap. Great for a souvenir photo. Get the pics put onto a disc when you have them processed by a local drug store.
Digital SLR with a dedicated housing and dome port: Super expensive, very bulky and a pain in the butt to travel with. Best possible quality photos and the only way to get an effective split level shot (half above water and half below). Get to use the same camera you're already used to working with. Hard to enjoy your time with the manatees with this much junk in your hands.
Digital SLR with "bag-style" housing: Cheaper than a dedicated housing but even more awkward to work with. Can take great photos if you're patient with the setup.
Waterproof digital point and shoot: Reasonably priced. Small enough to handle easily. Great quality photos. We recommend the Nikon Waterproof Underwater Digital Camera.
GoPro HERO5 Black: Great price. Amazing high def video. Super small size.
You may also need:
GoPole Bobber: This GoPro accessorize by GoPole doubles as a hand grip for your GoPro and a flotation device. Because you don't want to lose your GoPro, right?
GoPro Anti-Fog Inserts
Manatees Manners (Responsible Tips)
There are a few basic rules about how to swim with manatees but they all center around one basic principle: do not change the manatee's natural behavior. Remember, the manatee is an endangered species and is protected under state law and federal laws.
Not only is it bad for the manatees to harass them, it could potentially be very bad for you as well. Three Sisters and King Spring are patrolled by FWS employees and volunteers, and violations are reported. Respect these individuals and the advice they offer you. If convicted of violating a state law you face a maximum fine of $500 and up to 60 days in prison. Federal law violations could land you up to $100,000 in fines and up to a year in prison. Is it worth getting your jollies harassing a manatee when you'll wind up a bankrupt convict? Here are a few things to keep in mind.
Look but don't touch.
Stay on the surface. Manatees on the bottom are likely resting. It is illegal to dive under the surface around manatees.
Do not feed or give water to a manatee. It changes their natural behaviors and they lose their natural fear of humans and boats. In the long run this leads to more manatee deaths. The same can be said for scratching a manatee's belly. It essentially tames the animal, making it much more likely to die an untimely death.
Do not enter manatee sanctuary zones. These guys need their space to get away from humans.
Never separate a mother from her calf or an individual from a group. Give them space to move.
Never attempt to surround, chase, poke, or ride a manatee.
Avoid excessive noise and splashing.
Do not interact with manatees that have a tail tag. Animals with a floating GPS location transmitter attached to their tails already receive too much human attention. Please leave them alone.
The official Fish & Wildlife video: Manatee Manners is available on Youtube. Also, check out the Florida Fish & Wildlife website for a full list of rules.
---
Read this next:
---
Did you enjoy this article? Pin it!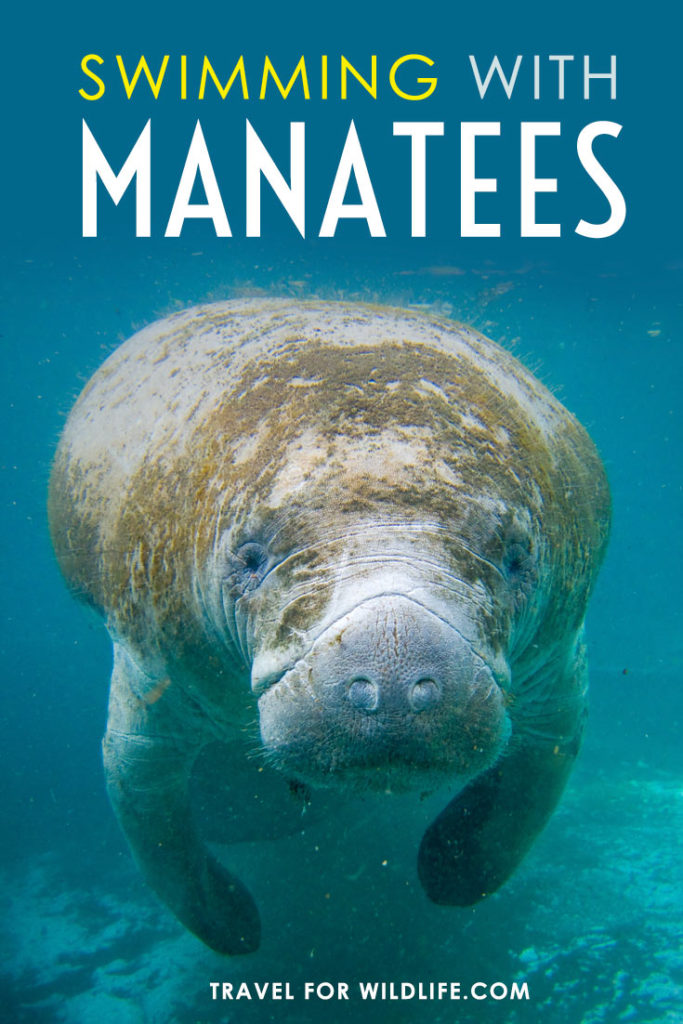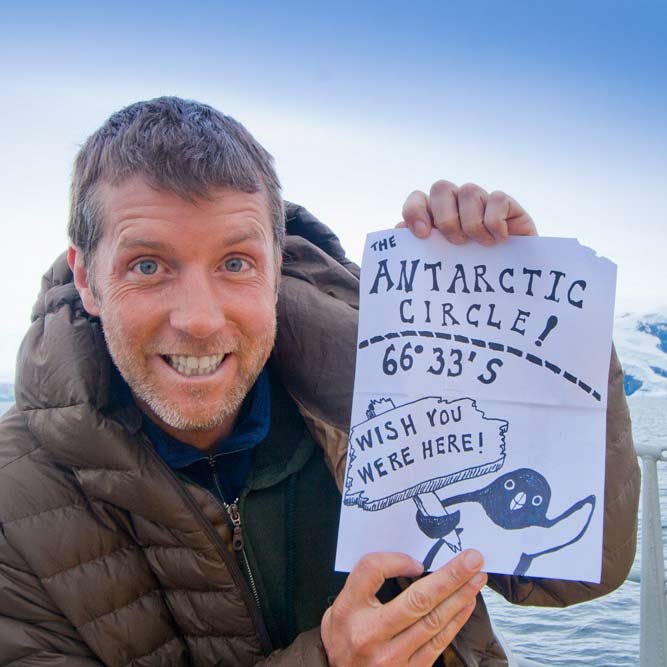 Hal Brindley
Brindley is an American conservation biologist, wildlife photographer, filmmaker, writer, and illustrator living in Asheville, NC. He studied black-footed cats in Namibia for his master's research, has traveled to all seven continents, and loves native plant gardening. See more of his work at Travel for Wildlife, Truly Wild, Our Wild Yard, & Naturalist Studio.